Ohio law requires that all persons who perform the functions of a peace officer in the State of Ohio successfully complete an initial course of training entitled the Ohio Basic Peace Officer Training Academy (OPOTA).
The Summit County Sheriff's Office offers a state-certified, cutting-edge OPOTA course through a unique collaboration with the University of Akron. The University of Akron/Summit County Sheriff's Police Academy is ranked one of the best in the state, and was the first open enrollment academy to receive STAR accredidation from the Attorney General.
Financial support, scholarships, and college credit are available to cadets going through the Academy.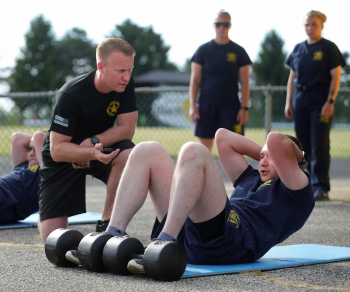 This program provides 711 hours of comprehensive basic training to develop policing skills, enhance leadership abilities, and promote a solid ethical foundation to all cadets, preparing them to pass the Ohio State Peace Officer's Certification Exam. The instructors consist of both experienced law enforcement officers and well-respected University of Akron faculty members.
Cadets must be 18 years of age or older to attend the Academy or work as a Sheriff's deputy, and must pass all of the following psychomotor skills to be eligible to sit for the state exam:
Driving
Handgun
Shotgun
First Aid/CPR/AED
NHTSA speed measuring device training
Impact weapons
Patrol techniques
Building searches
Stops & approaches
NHTSA standardized field sobriety testing
Hazmat & WMD awareness
Incident command system
Subject-control techniques
Physical training
Scenario-based training
Throughout thtraining, core values of professionalism, obligation, leadership, integrity, courage, and excellence are stressed and reinforced. When the cadets complete the academy, they will enter the world of policing with the knowledge and skills necessary to effectively perform their duties as law enforcement officials.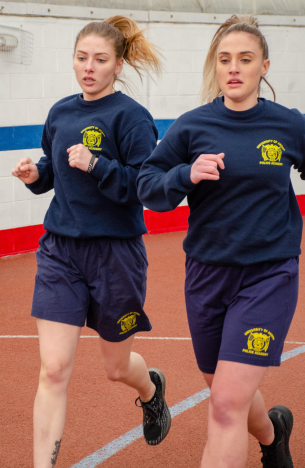 Corrections Qualifications:
Ohio law requires that all persons who perform the functions of a corrections officer in the State of Ohio successfully complete the training prescribed by law. The Summit County Sheriff's Office has been specifically authorized by the Ohio Peace Officer Training Commission to conduct a Basic Corrections Training Academy. This Corrections Training consists of a total of seven units of academic and skills performance topic areas. Instruction in such matters as Inmate Rights and Civil Liability, Inmate Supervision, and Crisis Intervention & Suicide Prevention are included in the 148-hour curriculum. All of the Basic Law Enforcement instructors and Special Topic instructors have been certified by the commission to teach in this academy. Anyone interested in attending the Basic Corrections Academy is encouraged to contact the Academy Commander at (330) 643-2114.