Sheriff's Office Mobile App
Introducing Our New App
Navigating critical information has never been easier.
The Summit County Sheriff's Office mobile application is an interactive app developed to improve services and expand communication with area residents. The Summit County Sheriff's App will offer residents a more convenient way to interact with the Sheriff's Office, stay on top of the latest public safety and news information, and access services such as the Sex Offender Registry, Sheriff Sales, CCW, Inmate Search and Services, and more.
This app is not intended to be used to report emergency situations. Please call 911 in an emergency.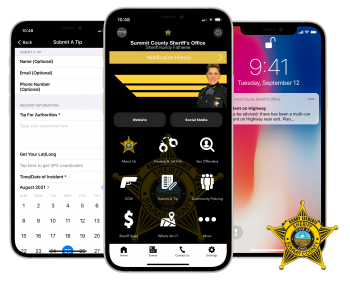 Available for download now: